Photo by Jerome Miron-USA TODAY Sports
Baylor Football
Jalen Pitre — An NFL Draft Player Profile
---
---
"The One Who Stayed"
Most Baylor fans need no introduction of Jalen Pitre. As Baylor football was discovering new depths of despair and commits were understandably abandoning ship, he was one guy stuck around. Pitre's reason why was straight forward: he committed to the school, not the coach. He loved Baylor, he loved his academic plan, and he wanted to be a part of the Baylor family.
In an age where, love it or hate it, most recruits are primarily concerned with relationships with the coaching staff, early playing time, and now their own NIL, Pitre's commitment to Baylor as a school immediately endeared him to the hearts of Baylor nation.
If he had never played a snap, he still would've held that place in Baylor nation's heart. But lo and behold, a generational talent — with unanimous All-American status and a Big 12 Defensivee Player of the Year award to back it up — will undoubtedly be one of the best defenders to ever step foot on Baylor's campus.
Baylor's Best Draft Prospect
It has been really fun reading all of the positive press that the Baylor draft prospects have been getting over the last few months. Guys like Pitre, Terrel Bernard, J.T. Woods and Abram Smith are all likely to be selected in April. One guy has received the lion's share of the press, however, and it will come as no surprise to Baylor fans that it is Pitre.
In my years of writing about Baylor football, I don't think I've ever seen a Baylor player as universally beloved by Baylor fans as well as respected by opposing fans. We can all think of players on other teams who despite being formidable challenges to play against, you recognize as great players that you want to root for in the future (I feel this way about Breece Hall, for instance). I've heard a lot of this respect of Pitre from opposing fans.
He's a bit of an enigmatic prospect. You'll see some pretty foolish takes from people who don't really understand who he is. Early on, I saw a lot of people saying that he'd have to play as a true safety, not as a field linebacker slash nickel like he played at Baylor. Could he do this in the NFL? Sure. Is it his best position? No. PFF does their best to confuse everyone by listing him as a "cornerback" (seriously), which doesn't help matters. He took the majority of his snaps lined up in slot cornerback coverage (601), but he's definitely not a corner. That just shows his versatility.
Since his days at Stafford high school, Pitre has been a guy who is at his best around the line of scrimmage. I've pointed this out many times, but it is worth watching a few minutes of his high school highlights. Guys will obviously improve on their games out of high school, but their overall feel for the game and playing style tends to remain the same. It's clear watching him out of HS that he's the same player he is now.
He's a truly unique prospect, and it helps to list out his strengths and weaknesses to understand why. As a brief overview (we'll be diving into all of this in the remainder of the profile), here's how I'd analyze him.
Elite: Play recognition, game-sense, pass rush, backside run pursuit, perimeter screen play, attacking the ball at the catch point.
Good/Great: Setting the edge, "seam-curl-flat" pass coverage, man coverage on TEs/RBs.
Weaknesses: Deep speed, size.
Note that for all these, it's comparative to guys who play his position. He's not Von Miller rushing the passer, but for your average NFL field-backer/nickel/whatever you want to call it, he's elite. But, suffice to say, for a guy who is 6'0 195 lbs, that is a very unique combination of skills. Most guys who play Pitre's position tend to skew heavily towards either being a "third corner" type defensive back who primarily plays coverage, or a "more athletic LB" who brings value in setting the edge in the run game and pass rushing, but is very weak in coverage. Pitre really is a near-perfect hybrid of both which is what makes him so valuable.
Let's dive into what makes him special, with lots of video examples, of course.
"The Knack"
I find it so instructive to watch Pitre's high school highlights because they demonstrate his elite feel for the game. One thing most people who are elite at scouting high school players will tell you is that guys who create turnovers in high school will do so in college. It's very rare that you have a high school safety with 1 INT in their high school career go on to become a turnover machine in college, because so much of it is the feel for the game and sense of how to be around the ball. In a "create a player" system, you'd give Pitre a 99 in game-sense. By all reports, the dude is relentless in his game-week preparation and then acts on that information with zero hesitation in game.
Baylor defensive coordinator Ron Roberts said, "Defense is recognizing formations and the plays that come from them." Easier said than done. But for guys like Pitre, it's what makes him elite. Before the Senior Bowl, Baylor offensive line coach Eric Mateos, in reference to Pitre, hilarious tweeted something like, "Have fun with him calling out all the offensive plays before they happen after a few practices."
A lot of players prepare hard, and they might have as much information as someone like Pitre does before the game, but few are able to act on it as rapidly and instinctively as Pitre does. It reminds of a concept from a great recent movie directed by Taika Waititi, Hunt for the Wilderpeople. In it, a troublesome foster kid and his newfound "Uncle" (played by Sam Neill, of Jurassic Park fame) are surviving out in the woods. Neill's character is a wilderness type, very handy. At one point, he catches a fish (well, really an eel) from a creek, and the teenager asks him how he did it. Their exchange is as follows:
That was my overwrought way of saying that Pitre just has that it-factor, the game-sense, The Knack that you can't coach. Guys either have it or they don't. And Pitre has it in spades. Here are a couple of examples:
Below is the first play of the game in the Sugar Bowl against Ole Miss. Pitre is lined up towards the top of your screen to the boundary. Notice how he, after already processing the formation, recognizes the motion and calls it out before it happens. Then, he trusts his preparation and flies into the backfield unblocked, killing the play before it ever had a chance.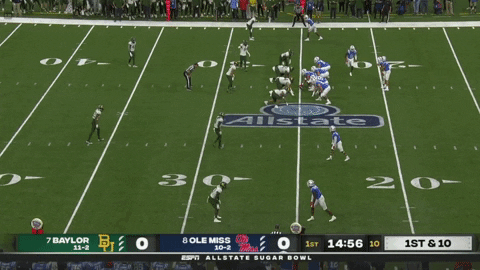 This next play is very similar. Once again watch him call out the motion before the receiver ever starts moving. He's immediately acting on his perceptions and communicating them to his teammates. After helping his teammates recognize the motion, he sticks back on his responsbility and makes the tackle for loss despite the play having good numbers for the offense. This is elite stuff, and the kind of thing that would make me very excited as a GM. When you add Pitre to your defense, you're not only adding an individually great player, you're adding a good who will have a massively positive synergistic affect on your defense. He makes guys around him better with his instincts.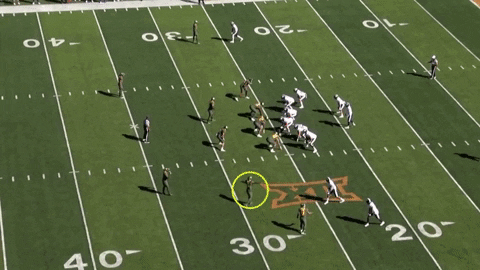 6'0 195 lbs … But An Elite Pass Rusher
Again going back his highschool film, Pitre has always had the knack for pass rushing. He instinctively understands how to attack leverage points, when to just try to demolish a guy vs when to try and get around them. Throughout his Baylor career he showed that if you tried to solo him up with a RB or TE in pass protection, he was gonna get to the QB.
In a post-game press conference this year I asked him whether his eyes light up whenever he sees that he the offense is gonna try to block him with a RB or TE. In the nicest way possible, his eyes joyfully lit up as he responded, "I try to be mean when I rush the passer, that's really the key." And you can see that on film. When teams leave a RB or TE on him, he just destroys them. He's like Terry Tate coming for the office worker who takes the last cup of coffee without brewing a new pot. Take this rush vs Texas, for example: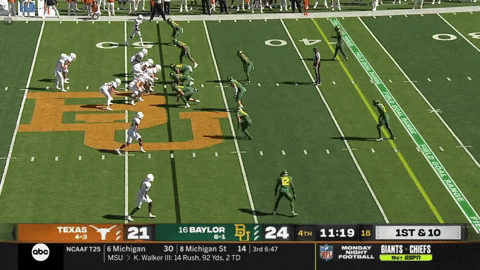 Here's another great example of him playing bully-ball vs a Texas RB, this time from 2020. Come on, you've gotta love it.
He doesn't always just bowl people over though, below he flashes those aforementioned great instincts to dart around the block of the TE. I don't know how well he'll test in stuff like the short shuttle, but he's about as explosive as it gets in short spaces in terms of acceleration.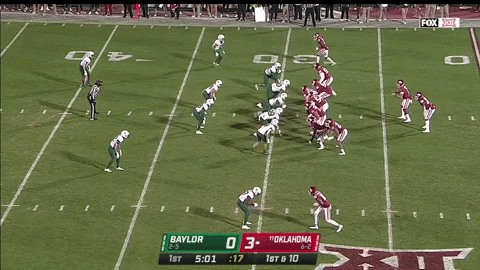 Pitre demonstrated this kind of elite pass rushing ability throughout his career at Baylor. And there were many more plays where he nearly got the QB and forced bad, early throws. Offenses always had to know where he was, which often led to them sliding the protection towards him (to ensure they got an offensive tackle matched up against him, instead of a RB or TE) which gave his teammates even better opportunities. If you go back and watch many of the sacks by guys like Terrel Bernard, you'll notice that they got advantageous matchups against RBs because the OL was paying heavy attention to where Pitre was, even if Pitre didn't actually end up rushing (this is the core concept of the Aranda defense).
In his two seasons under Aranda playing this field-backer/nickel/"STAR" position, Pitre accumulated 6 sacks and 29.5 TFL. For a guy who spends a good amount of his snaps in coverage and not even near the backfield, that's absurd. He's a truly elite pass rusher.
6'0 195 lbs … And Can Set the Edge
Don't get me wrong, if a team is running power ball, I'd rather have a defensive end or a much bigger outside linebacker setting the edge. But occassionally teams thought, "Hey, this 195 lb missle is an absolute menace chasing down our plays off the backside. Let's just block him with bigger TEs and OL to erase that advantage!" Yeah, it didn't work out so well.
Pitre is always gonna give up size in these situations, but he plays with such tenacity, toughness, and intelligence that he's still able to effectively set the edge in the run game. Below is a basic example vs Texas State. This may not look like anything special but trust me, it is. Pitre is giving up 100+ lbs to this OL who is pulling and trying to kick him out. Pitre says "no way," attacks the OL's outside shoulder with his inside shoulder, which squeezes the play inside back to his help defenders. This is a play where many guys Pitre's size would simply go through the motions of setting the edge, ostensibly maintaining outside leverage but getting owned in the process. Pitre does it with force and dramtically impacts a play that, on the chalkboard, should be a massive advantage for Texas State.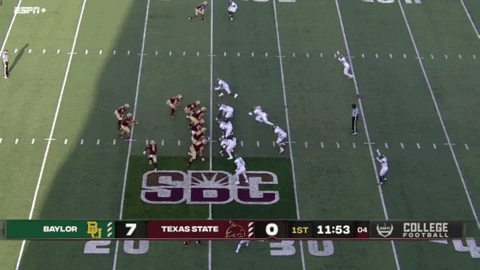 Another one of his favorite tactics was to simply submarine the pulling OL. This is effectively the same play as against Texas State, the center is pulling and trying to kick him out. Once again, he's giving up 100+ lbs in this matchup. But Pitre understands the run, knows that his boundary inside linebacker has the open gap, and he simply submarines the OL and squeezes the hole down allowing his fellow linebacker to make the play. Again, may not look like anything special, but this isn't the kind of thing most guys his size are willing to do on a regular basis.

Below is one of my favorite plays of Pitre's career. He's been an absolute menace against Texas, killing them off the backside. So they try to double team him at the point of attack with two tight ends, both of whom have 60+ lbs on him. It's 195lbs vs 520. And he pushes them 5 yards into the backfield! And then discards them both to get involved in the tackle for loss! This is silly stuff for a guy his size.
These kind of plays are part of what I'm referring to when I say guys have The Knack. Is there technique involved in splitting that double team? Absolutely. But is there also an instinctive sense for how to play off guys, how to attack leverage, use your hands and such, that some guys either have or they don't? Definitely.
In the NFL, the defensive coordinator isn't going to be saying, "Oh hell yeah, Pitre is gonna be setting the edge against an OT here." It's a massive size difference, and if the OT is great, it won't be a good matchup for Pitre. However, while for most guys his size it would be an automatic loss, Pitre's toughness, intelligence, and tenacity mean that he at least can hold his own, and he might just win a few of those matchups.
Erasing Perimeter Screens
I understand that college offenses are rather limited as far as how many plays you can install, and that they can't just erase entire chunks of their playbook against certain teams, but I have to admit … every time an opposing offense ran a perimeter screen towards Jalen Pitre, I simply shook my head. There was not a college WR or TE in existence that could reliably block Pitre on the edge.
As a defender playing against perimeter blocks, your primary job isn't to make the tackle yourself, but to maintain proper leverage so that free running defenders have time to chase down the play. By and large this means to attack the outside shoulder of the blocker without getting flattened (it's no use to maintain outside leverage if you get pushed so far outside as to be meaningless). Pitre is awesome at first identifying the perimeter plays and then attacking the blocker with terrific force. Pn many of these plays, even if they are positive ones for the offense, you just have to imagine that if a weaker defender was in his spot the play would've gone for many more yards.
This first play below against Kansas State is a great example of that. He knows that the CB to his side is playing a bail coverage which means he is at a big disadvantage vs the WR blocking him. For this play to be stopped for less than 5 yards, Pitre had to do what he did: attack the play quickly with proper leverage. K-State gets 5 yards on this 2nd and 14, but it would've gone for much more if Pitre had been slower to react or had attacked too far inside which would've given the ball carrier much more room to operate outside.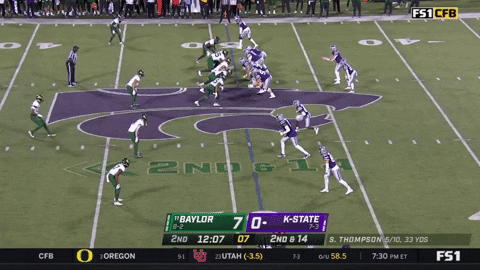 One thing you notice when you watch Pitre on these perimeter plays is that he just never gets pushed backwards, no matter the size difference. Both in the play above and below he's giving up significant weight to the offensive player blocking him, but he still rocks them backward on contact. This play below vs BYU is very similar to the one against KSU. Yes, the play goes for positive yards (and BYU nearly scores), but you have to recognize that if Pitre hadn't played this block so well it would've been an easy TD. He could've recognized it a little bit faster, but it looks like there was some miscommunication across the board here for Baylor. This is actually an example of a "poor" play by Pitre, which shows you that even when he isn't at his best, he's still playing with 100% aggression. That aggression to attack this block prevented an otherwise surefire TD.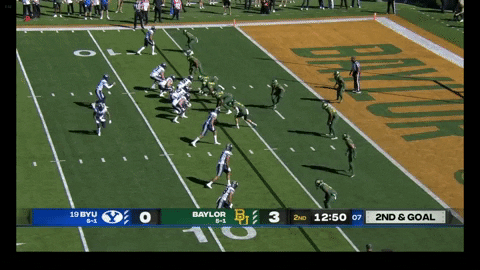 As a final example, this one is from Baylor's spring game. Whether it is screen passes to WRs or pitches to RBs, WRs and TEs just have no chance blocking him. It's not hard to decipher who he is on this play.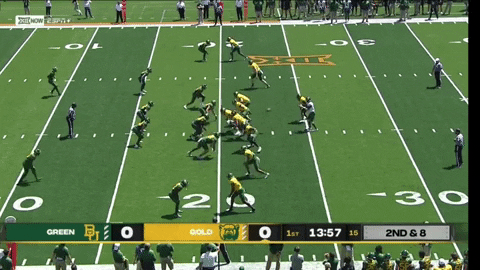 As discussed in the previous section, Pitre's size means he'll always be giving up something to big time NFL OL. But out on the edge against TEs and WRs, you have to feel great about him continuing to do what he did in college: play with savvy and aggression.
He's Not a CB, But He Can Cover.
There is really only one major liability to Pitre's game: deep speed. Over the course of a 40 yard dash, he's just not that fast. He has that terrific explosion and is awesome out of his breaks, but you don't want him straight up running downfield with a WR. This is why I think it is a misnomer when people refer to him as a "nickel," a moniker generally used for 3rd corners who play man on inside receivers.
At Baylor, Pitre was generally used as a "Seam-Curl-Flat" (henceforth, "SCF") pass defender, not as a pure man coverage guy. The helpful thing about the SCF moniker is it accurately describes the responsibilities of the defender in coverage. Usually lined up over the #2 WR (the second from the sideline; i.e., the most outside WR is #1, the next in is #2, and so forth), the SCF pass defender is playing a sort of matchup zone with different rules vs different teams. But at its most basic level, this defender will:
1. Wall-off any seam routes (i.e., vertical routes up the middle of the filed). This means he isn't playing solo coverage on deep routes, but instead maintaining inside leverage knowing that he has help from his safety on anything over the top. The play below from Baylor's Spring game is a great example of this. Pitre is lined up over the #2 WR to the field and has safety help over the top. He maintains inside leverage and stays on top of the WR in case he continues to push vertical, but also maintains pitter-patter feet and sticks with the WR on a very well-run route. The QB is looking to hit this deep dig route, but Pitre is so sticky that the QB has to come off of it.
Pitre does the same thing against West Virginia here below. This time, he properly communicates the switch with the CB (notice how he ends up covering the #1 WR), walls him off inside, and makes the pick. He covers the play so well that the WR had given up on his route and didn't figure the QB would throw it to him.

The Curl and the Flat aspect of "Seam-Curl-Flat" are easy to understand. His primary responsibility is the Seam, but if nobody attacks the Seam, he then checks whether anybody is running a Curl route (like a 5 yard stop route), and if nobody is in the Curl zone, he looks to the Flats.
This isn't an article about zone-match pass coverage techniques, but to understand what Pitre was asked to do and what he's good at, you need to understand those basics. Essentially, he's a zone-match defender who is dynamite at everything under 15 yards, but he needs safety help when covering faster guys deep.
The nice thing about this limitation is it doesn't apply in the redzone. There, with a shrunken field, you can play him in straight man coverage and, because offensive playbooks shrink in the condensed field, let his insincts shine. This play below against TCU perfectly exemplifies this:
Something you notice in all of these plays is his aggression at the catch point. He truly attacks the ball in the air like it is his. You see the same thing in this practice clip from the Senior Bowl below:
He's extremely physical at the catch point, but it's not because he's grabby or holding. He just attacks the ball.
Pitre reportedly wowed onlookers at the Senior Bowl with his man coverage skills. I do think that he is a really good pass defenders within that 15 yard radius. Where I think analysts make their mistake is when they assume that because he's so dynamite in this radius and so explosive, that he's also a candidate to act as a slot cover corner. Dave Aranda and Ron Roberts never asked him to do that at Baylor, and NFL teams shouldn't expect any different. Pitre is a ~4.7 forty yard dash guys, he doesn't have good long speed. Don't ask him to do something he isn't good at, let him shine where he's great.
Hustle & Heart
Perhaps the most impressive aspect of Pitre's game is his relentlessness, which I think fits into his overall personality as a guy who stuck through the bad times so that he could enjoy the good ones. One of the most impressive plays of his I have ever seen is this one below against Oklahoma State. On its face, it looks like many other plays Pitre has made. Flying off the edge, he demonstrates awesome acceleration and makes the play off the backside. But what really makes this play special is the situation. More on that below.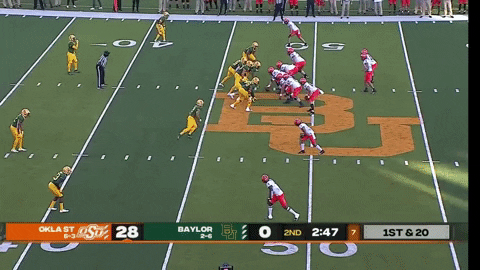 This isn't a normal game situation. This was the last game of the COVID-laden 2020 season. Baylor was one season removed from a Big 12 title game appearance, and now was 2-6. Furthermore, they were down 20+ scholarship players in this game, and it was pretty clear from the jump that Baylor just wasn't gonna be able to hang with OSU in this one. Despite this, down 28 points in the second quarter, Pitre was playing with his hair on fire.
In the NFL, where the margins are so thin and the difference between the best and worst teams isn't really that far apart, having a guy who plays with this kind of relentless, no-matter-the-situation fire is a massive bonus. There is certain value in taking "culture guys" just for that value alone, but with Pitre it's an added bonus. He's a great player who will always be in it, no matter the circumstances. That kind of attitude is infectious and boosts the overall ability of your team.
For the last of the play examples, I'll leave y'all with this. OU is setting up a WR screen where the WRs can start blocking before the ball is thrown because the pass is caught behind the line of scrimmage. Good play on the chalkboard, you assume your WR can get a decent block on the defender here. Not against Pitre. He recognizes the play, plants his foot, and makes the crossing WR pay.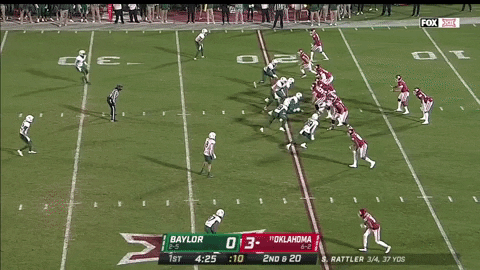 Where I Think Pitre Fits in the NFL
I'm not an NFL expert, and I won't pretend to pass myself off as one. However, I've watched enough to know that Pitre has a role in the modern NFL. I think it would be a big mistake to try and play him as a "true," deep-half safety who primarily plays over the top. For a guy who has proven over his entire career that he's elite near the line of scrimmage, you want him near the LOS.
Playing him as a "field-backer," (i.e., the linebacker lined up to passing strength and/or the wide side of the field) or whatever special name you want to give the position, is the way to go. Teams will likely question whether he can handle that position given his smaller size. I think he's proven that what he lacks in size he makes up for in aggression. He truly plays bigger than he is.
Playing him back at safety means he has far fewer opportunity to rush the passer and make tackles for loss in the run game. In simple geometric terms, he's farther away from the ball. Get him closer to the ball, allow him to make plays, and he'll show you that he can defend the run and set the edge like guys who are much bigger than him. I could be wrong, maybe NFL OTs will be a different animal for him, but I am betting on Pitre. And I'd make him prove that he can't before you move him back.
All the best to one of the best who will ever put on a Baylor uniform.
Never miss the latest news from SicEm365!
Join our free email list