54 Days till Kickoff: Baylor only allowed 54 points in Q3s in 2021
---
As always, keep track of both the stats and roster countdowns in the Offseason Hub!
---
Jerome Miron-USA TODAY Sports
One of the more important elements of a football team is how they come out in the second half. Baylor boasted a top ten defense in the country in 2021, and they only allowed 55 total points in third quarters over the course of the season, which was good for 20th in the nation.
The Bears were outscored in only four of fourteen third quarters on the season yet went 4-0 in those games: Iowa State, Kansas State, Oklahoma State, and Ole Miss. Not once did the Green and Gold's stout defense allow the opponent to score more than ten points during the third quarter.
Overall, Baylor outscored opponents 110-54 in third quarters, good for a +56 point differential. They allowed 51 points in Q1s, 70 points in Q2s, and 81 points in Q4s.
2021 Third Quarter Scores Game by Game:
Texas State: 10-3
Texas Southern: 10-0
Kansas: 14-0
No. 14 Iowa State: 7-10
No. 19 Oklahoma State: 7-0
West Virginia: 14-3
No. 19 BYU 14-7
Texas 7-7
TCU 7-7
No. 8 Oklahoma 3-0
Kansas State 0-3
Texas Tech 0-0
No. 5 Oklahoma State 0-7
No. 8 Ole Miss 0-7
Some of the most memorable third-quarter moments of the season were the two interceptions in the Big 12 Championship Game and Al Walcott's interception against Oklahoma. The sack and fumble in the third quarter against BYU was another highlight as well.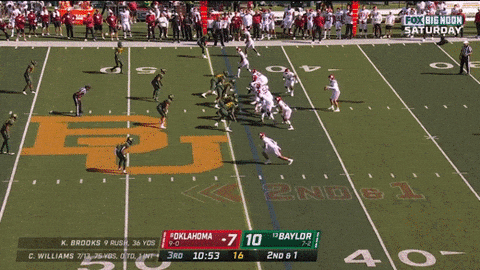 Never miss the latest news from SicEm365!
Join our free email list