Photo by Reinhold Matay-USA TODAY Sports
38 Days till Kickoff: 38 First Downs against UNC in Russell Athletic Bowl
---
As always, keep track of both the stats and roster countdowns in the Offseason Hub!
---
While on their way to a program record 645 single-game rushing yards, Baylor recorded their most ever first downs in a bowl game with 38 against North Carolina in the Russell Athletic Bowl.
After starting the season 9-1, both BU starting quarterbacks, Seth Russell and Jarrett Stidham, came down with season-ending injuries. The Bears limped across the finish line, losing to both No. 19 TCU and Texas to end the regular season at 9-3.
Still, without a quarterback, Baylor fell to No. 17 in the rankings and was slated to play No. 10 North Carolina in the Russell Athletic Bowl.
Not having a QB made the Bears have to change their game plan to run, run, and run some more. Baylor crushed the Tar Heels, running for a program record 645 yards and seven touchdowns while dominating the time of possession, 37:06 to 22:54.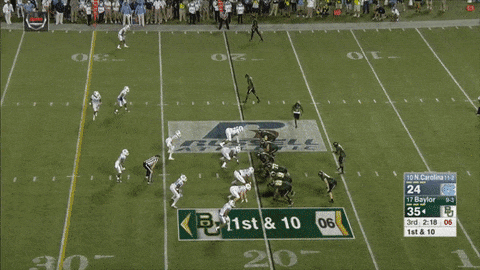 Johnny Jefferson had 23 carries for a BU record of 299 yards, and Devin Chafin added 27 carries for 156 yards and a touchdown. Terence Wiliams also contributed 16 carries for 97 yards and two touchdowns. While Lynx Hawthorne and Chris Johnson combined for 16 carries, 99 yards, and a TD.
Thanks to the ground game, the Bears walked away with an unconventional 49-38 bowl win over No. 10 North Carolina. It was their sixth straight bowl game and third victory during that span.
Never miss the latest news from SicEm365!
Join our free email list