Photo by Jerome Miron-USA TODAY Sports
Baylor Football
72 Days till Kickoff: Abram Smith scored 72 points on 12 rushing TDs
---
As always, keep track of both the stats and roster countdowns in the Offseason Hub!
---
During his record-setting 2021 season, Abram Smith scored 72 points on 12 rushing touchdowns. Smith set the single-season rushing record at Baylor with 1,621 yards and set the BU record with nine 100-yard rushing games on the year. His 1,621 yards were good for first in the Big 12 and fifth nationally. He earned All-Big 12 Second Team and Honorable Mention Offensive Player of the Year in the conference.
Scott Wachter-USA TODAY Sports
Smith was fifth in the league and 39th in the nation with 72 points on 12 rushing touchdowns. He scored in eight of Baylor's 14 games and had three multi-TD games. It was an incredible season for someone who converted from linebacker that offseason.
Smith got his first carry in over two years in the season opener against Texas State. He finished the game with 19 carries, 138 yards, and two touchdowns.
Smith then ran for 126 yards with a pair of touchdowns on 12 carries in the blowout victory over Texas Southern. He then had 16 carries for 122 yards and a touchdown in the Big 12 opener at Kansas. He added touchdowns in games against both Oklahoma State and West Virginia as well.
No. 7 followed up those solid performances with an incredible homecoming game against BYU. Abram showed out with a career-high 188 rushing yards and three touchdowns against the No. 19 Cougars.
The best moment of Abram Smith's record-setting season came against Texas. Where he created a highlight that Baylor Football will use for many years to come. While the spin-back touchdown to put the Bears up two scores is what we will all remember from that game, he also carried the ball 21 times for 145 rushing yards and a touchdown.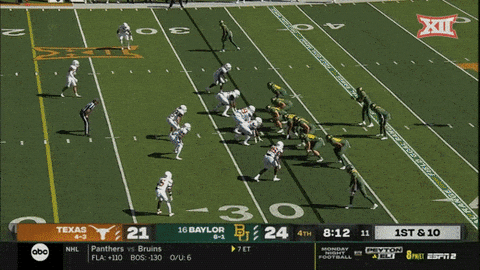 Another memorable moment came against No. 8 Oklahoma, in which Abram had a 75-yard run to set up a touchdown to seal the victory. He had 148 yards, and a touchdown on 20 carries in the upset win.
Smith finished out the season with hundred-yard performances in both wins over Texas Tech and No. 8 Ole Miss. His twelfth and final touchdown of the season came in the gritty win over the Red Raiders. Smith finished out the season and his Baylor career running for the sixth-most yards (172) in Sugar Bowl History.
Baylor would not have had the best season in program history without Abram Smith. His 2021 season was one of the best years for a Baylor football player in recent memory.
Stephen Lew-USA TODAY Sports
Never miss the latest news from SicEm365!
Join our free email list