Baylor Football
69 Days till Kickoff: RJ Sneed's 69-yard Touchdown against Kansas
---
As always, keep track of both the stats and roster countdowns in the Offseason Hub!
---
The Bears' made easy work of the Jayhawks, leaving Lawrence with a 45-7 victory in the Big 12 opener. Gerry Bohannon threw for 269 yards and two touchdowns on 19-23 passing. Abram Smith ran for 122 yards and a touchdown on 16 carries. While Tresten Ebner added 72 yards on 12 carries.
The Bears got things rolling two minutes into the second half when Gerry Bohannon connected with RJ Sneed on a 69-yard touchdown down the left side of the field. Sneed caught a quick out route and turned up the jets to get up the left sideline. Drew Estrada and Tyquan Thorton both picked up great blocks to lead Sneed into the endzone.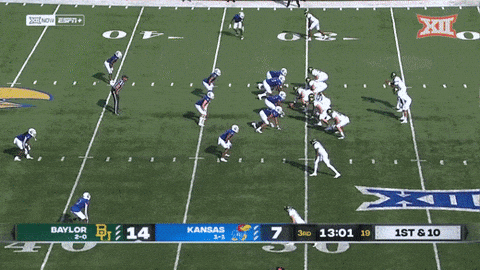 The offense added 31 points in the second half thanks to a dominant run game, while the defense shut the Jayhawks out. The 45-7 victory allowed Baylor to open the season 3-0 and 1-0 within Big 12 play.
Sneed finished the 2021 season hauling in over 46 receptions for 573 yards and two touchdowns. He was Baylor's second-leading receiver on the year, only behind Tyquan Thorton. Sneed brought a veteran presence to the locker room and had a great career as a Bear, despite having to work under three different offensive coordinators during his tenure. After the conclusion of the 2021 season, Sneed entered the portal and grad-transferred to Colorado.
Never miss the latest news from SicEm365!
Join our free email list