Photo by Mark J. Rebilas-USA TODAY Sports
Baylor Football
68 Days till Kickoff: KD Cannon's 68-yard TD in the Cactus Bowl
---
As always, keep track of both the stats and roster countdowns in the Offseason Hub!
---
After going 6-6 during the 2016 regular season, Baylor was invited to the Motel 6 Cactus Bowl in Phoenix, Arizona. The Bears' opponent would be the Boise State Broncos, who went 10-2 on the season and finished fourth in the Mountain West.
Freshman QB, Zach Smith had an incredible game in his fourth career start. He threw for 375 yards and three touchdowns on 28-39 passing. His go-to receiver, KD Cannon, had 14 receptions for 226 yards and two touchdowns.
Cannon's second touchdown of the night came on a 68-yard post route that was perfectly placed by Smith. Cannon made a nice catch, avoided a defender, and shot up the right hash marks to cruise into the endzone and give Baylor a 14-3 lead.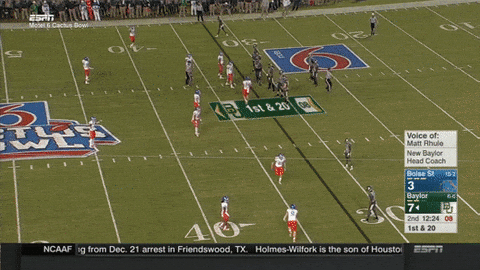 The Bears led 21-6 at the end of the second quarter and added two more scores to put the game out of reach in the second half. Baylor won the Cactus Bowl by a score of 31-12 and finished the season with a 7-6 record. After the tumultuous transition year that was 2016, Matt Rhule took over the program shortly after the end of the Cactus Bowl.
KD Cannon also finished the season as the Bears leading receiver. He totaled 1,215 yards and 13 touchdowns on 87 receptions.
Never miss the latest news from SicEm365!
Join our free email list