Photo by Chris Jones-USA TODAY Sports
Baylor Basketball
The Return of Baylor's Sharpshooter LJ Cryer
---
After a foot injury meant he played in just one of Baylor's final 14 games, LJ Cryer is back in the gym and preparing as one of the leaders of a Baylor team looking to repeat what it did two years ago.
To get to this moment — where Baylor can legitimately feel it is ready to follow Villanova's path as a two-time champion in a three-year window — Cryer will be at the forefront for Baylor. But before looking at this season, it's helpful to start at the beginning for Cryer.
Coming off a Big 12 record 23 games, and with a global pandemic raging, Baylor had several players go through the NBA Draft process. LJ Cryer particularly paid attention to Jared Butler and MaCio Teague's decisions. "I did think they were pro. That was a big decision to me coming here, and I was expecting to play a lot."
Austin Carpenter is now the Director of Player Development at Kansas State. He was a graduate assistant at Baylor during Cryer's first two seasons. Carpenter says, "Trials and tribulations of a kid that left Houston as the all-time leading basketball scorer, at 90% of the places in America not only is he playing 20-28 minutes, he's starting. Not only because of covid, but because of guys like Mace, he has to go through the best backcourt defensively, and learn a highly complex defense. That year was tough on him, he wouldn't tell it differently. That year was probably the best
thing that ever happened to him, and it set him up for success. It just goes to show you LJ's mental fortitude. Those guys took him under his wing."
Rather than sulk, Cryer went to work. "Throughout that process, I just felt like I couldn't lose sight of myself and stuff like that," said Cryer. "I learned that practice is way more important than the game, and we have a million practices and only end up playing 35 games. I tried to approach practices as game days, and in high school, I didn't do that much."
While he sat behind four future pros, Cryer kept his competitiveness in a myriad of ways. Baylor graduate assistant, Chris Nottingham says, "He's the most competitive person. Whether it's shuffleboard, Connect Four... and he beat Jeremy (Sochan) in FIFA last week."
With Butler, Teague and Davion Mitchell gone, Cryer stepped up as one of Baylor's best guards. He was Baylor's leading scorer by points per game last season.
Cryer displayed an ability to handle the rock and work off the ball. Over the years, Baylor's made it difficult to defend pick-and-rolls by involving a third defender. When the defense brings a third defender, Baylor's guards are adept passers, and it has a bevy of shooters ready to hit open looks.
That often forces teams to commit two men to defend two players. And Oklahoma State found out that is pain against Cryer: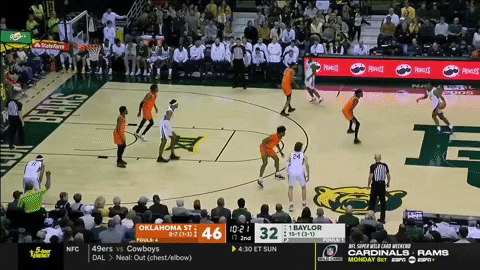 Cryer takes me through that sequence, "First, I just have to get my defender underneath the level of the ball screen. Most teams will chase me because if they go under, my rule is to shoot it automatically. Once I get him under the screen, I'm just reading Flo's man. (The defender) is dang near the elbow (area at the end of the free throw line), I'm shooting every time."
Most might focus on Cryer's work off the ball. Baylor Associate Head Coach, John Jakus, tells me, "Running off the ball is a lost art because of switching. But the Warriors have shown that constant movement is advantageous. When LJ hits 47% from three, and is the third best shooter in the country, and teams try to switch 1-5 (or switch every position on screens) it opens up opportunities for him."
Against West Virginia, Cryer got free running off the ball for a triple: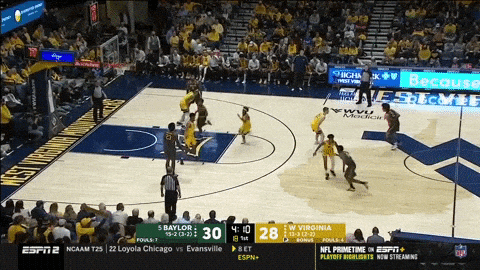 Once again, Cryer breaks it down. "Honestly, I was just watching my man. All the teams scout us, and they know our plays. I knew that he knew I was trying to get to the opposite side. So I was just trying to act like I went the opposite way to try and stop him beating me over there. He turned around and didn't see me. Once he turned his head, I saw him going the opposite way."
From there, he notes, "I kind of just try and stand him up or get him relaxed. Somehow try and disengage him from the play, and once he's disengaged, go all out. That's when I get the shot."
While those of us with zero skill inside will shout, "three is greater than two," to make up for inadequacies, Cryer is a maven near the hoop as well.
Carpenter recounts, "LJ's unbelievably quick. He was trying to figure out ways to use his quickness to fight over length. AB (Baylor Associate Head Coach, Al Brooks) created level 3, level 2 and level 1 finishes. Level 3 being the top of the glass. Finishing over length. When you're talking about the professional level, it's finishing over length. In high school sometimes they can do it, but at the collegiate level, sometimes it gets blocked. He really worked every day on his finishes and his work off the glass."
That work paid off so well in this bucket against Iowa State. Cryer's layup combined everything Carpenter described above, and it stuck with him so much that after our phone call ended, he sent me a text with the exact clip: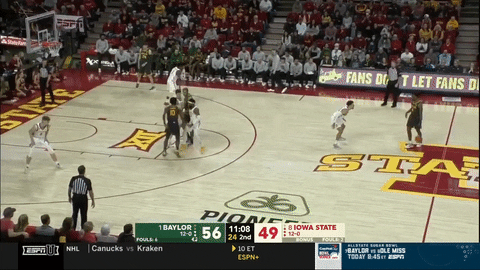 In the middle of his impressive sophomore campaign, Cryer was battling foot pain. He sat out five games before that. He notes, "I thought maybe it'd be the rest I needed. I was able to play half the game, then I started hurting again. After that game, I knew I was going to need the surgery because I played like 15 minutes, and it was hurting bad."
Cryer ended up having surgery on both feet a few days after Baylor fell to UNC in the NCAA Tournament. He provides, "One of the feet had a revision surgery; that one had to be wrapped in a cast. The left foot was a fresh surgery; all they had to do was stick a screw in that one. I was able to crutch around on my left foot after that. So the right foot, I wasn't able to put any weight on."
At the end of August, LJ felt like he was at 90%. He expects to be a full-go when the season begins.
Right now, Cryer recounts, "I'm able to do off the dribble moves. Catch and shoot. Haven't done any guarding of anyone... I can pretty much go live by myself."
During those sessions, Nottingham says, "LJ"s hitting like 99% of his shots in the open gym. It's ridiculous. I like rebounding for LJ because he just makes everything."
Off the court, the staff recounts Cryer's smile has won them over. Carpenter still keeps tabs on Baylor from Manhattan. On Instagram, he spotted Brooks and Cryer at Baylor's opening football game and how excited Brooks was to be there with Cryer.
Even with the smiles, he remains as fiercely competitive as ever. Cryer always tries to bet pushups with the graduate assistants and other players.
Nottingham recounts, "We were at Main Event recently for a team bonding activity. We saw LJ roll and knock over a few pins. He said, 'Man, I don't want to bet. These pins don't look good.' Well, we ended up betting, and LJ bowled like a 152 and beat everybody."
With the competitiveness and skill he possesses, it's not crazy to imagine LJ Cryer — a guard on Baylor's last national championship team — may be on the next one as well.
Never miss the latest news from SicEm365!
Join our free email list