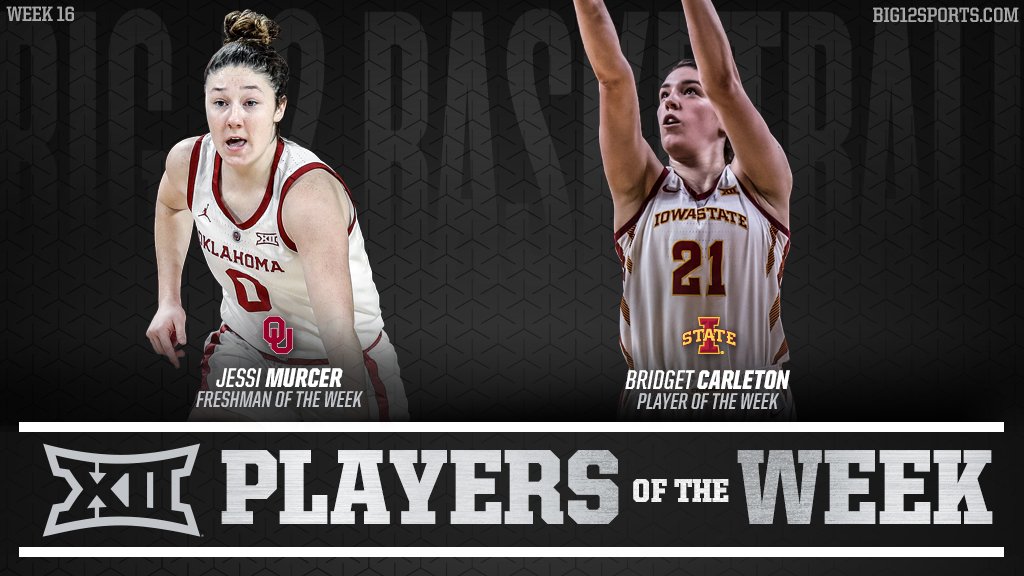 WEEK 16
Feb 25, 2019
"Iowa State's Bridget Carleton was named Big 12 Women's Basketball Player of the Week for the second-consecutiveweek and fifth time this season, while Oklahoma's Jessi Murcer picked up Freshman of the Week honors for the first time this season.
Bridget Carleton G SR
Iowa State
In games against Oklahoma and Baylor last week, Carleton averaged 28 points and nine rebounds for the Cyclones. She shot 51.4 percent (19-of-37) from the field and connected on 42.9 percent (6-of-14) from 3-point range. The senior Player of the Week award winner connected on 11-of-17 from the field at Oklahoma and finished with 28 points, 10 rebounds and three assists. The weekly award is the 11th all-time in her career.
Jessi Murcer G FR
Oklahoma
Averaged 14 points and shot 58.8 percent (10-of-17) from the field against Iowa State and West Virginia last week. The Moore, Oklahoma, native added 14 points and went 6-of-9 from the field (66.7%) against Iowa State. In the Sooners' upset win at West Virginia, the Freshman of the Week award winner Murcer added 14 points, grabbed a career-high nine rebounds and matched a career-high with five assists.."
-
BIG 12 WBB website